Building houses on Canadian technology: in what cases is this most justified?
The construction of houses of vulture panels today is considered one of the most successful and progressive. This approach has a lot of undeniable advantages. And in some cases, it is the Canadian technology that is the most justified and expedient. Today we understand what situations it is better to stay on this option.
Increase the area
Life goes on as usual: families grow, children are born, they create their families - and there is a need to increase living space. If you are faced with the task of expanding living space, but the budget is limited, the Canadian house building technology is an ideal option.
In a situation where the family has one, albeit a fairly spacious apartment, but financial resources do not allow to buy other apartments or build a full-fledged big house, the right decision would be to sell a city apartment and build a private house in suburban areas. Vulture technology will help to build a house quickly. After the sale of a city apartment, it will take you just a couple of months to build a new spacious house. And this is taking into account the laying of the foundation.
In addition, for a large family, a good option would be to build houses in the "quadrohouse" and "townhouse" formats. Relatively speaking, this is one large house of 3-4 sections with separate entrances. With this approach, you can save on communications, install one common boiler into several blocks, and use the area as efficiently as possible.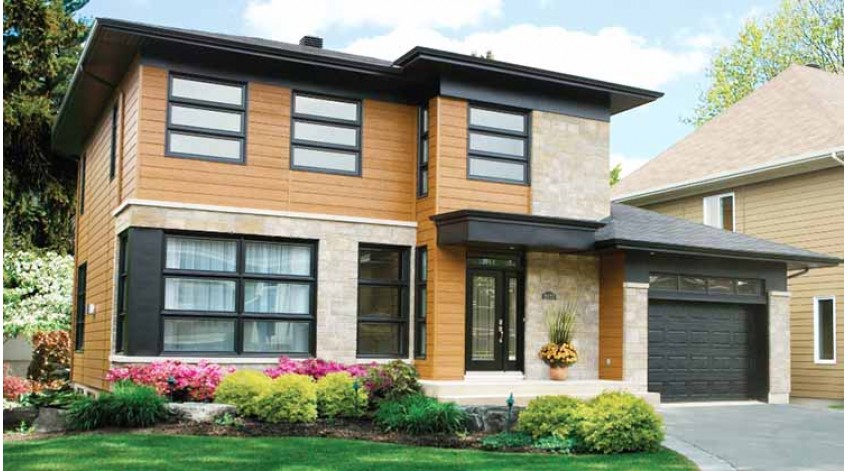 Limited time
Terms of building houses on frame technology are very tight. A typical house of about 100 square meters can be built in about 2 months. At the same time, the "bloated" staff of builders and equipment does not participate in the work process.
Internal and external finishing work can be completed later. The program is at least in such a situation - take engineering communications, lay the roof, glaze the windows and put the doors. This is enough for the family to move into a new home. The maximum program - the construction of a dwelling house and full exterior and interior decoration - will take 3-4 months depending on the project.
Limited financial capacity
Vulture panels will save the budget allocated for construction. SIP panels and their installation in a full-fledged house are several times cheaper than building from the usual materials. Model projects allow families to invest even in the most concise estimates. For the same amount, you will get a much more spacious and large house built using Canadian technology than one of the traditional ones.
You do not need to worry about additional measures for home insulation. SIP panels can boast of high heat capacity: they retain heat well in the winter season, while in the summer they maintain the effect of nighttime coolness longer. The house of the vulture panels can be equipped with any inexpensive heating system. Frame technology allows you to significantly save on utility bills.
Today it is the most budgetary but at the same time effective solution in the construction market. Durable, lightweight, comfortable, inexpensive homes from SIP-panels can be a springboard for the implementation of any design decisions. The technology allows building structures of asymmetrical, square, round forms. Of course, a non-standard project will cost a little more. But in any case, will cost you less than all the usual traditional methods of construction.
Another indisputable advantage is that from the very beginning of working with a contractor, you will know for sure the amount that your new home will cost your family. Risks and monthly additional expenses with the Canadian approach, unlike the traditional ones, are absent.
Land features
SIP-panels are the most appropriate option in the case when your land plot is located on a mountain slope and can only withstand lightweight types of structures and foundations. Also, sip-construction will save in situations where there is no possibility of approaching construction equipment, in flood zones, on peaty soils or in a soil where heavy types of foundations cannot be laid.
Canadian technology makes it possible to build houses without the need to bring in heavy machinery. the construction itself, together with the foundation, is light, airtight and endures the most difficult environmental conditions.