Modern projects of houses made of SIP-panels
Frame construction, in which SIP-panels are used, becomes increasingly popular. There are several advantages due to which houses made of this material are so in demand among customers. Let's consider them!
SIP-panels: material advantages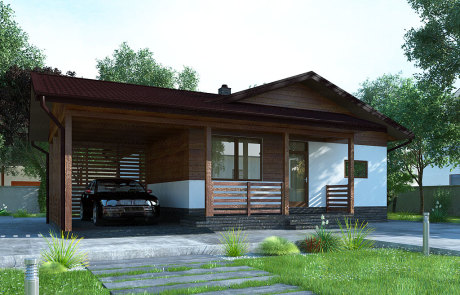 The average standard of living in Ukraine encourages people who seek their own house to look for its budget options. At the same time, it would be unreasonable to abandon the basic advantages that reliable housing should have. Therefore, the leading position in the segment of materials for the construction market is occupied by the raw materials that combine quality and reasonable price. In this context, it is impossible to forget about SIP-panels.
These panels provide an opportunity to build buildings that are durable and reliable, but at the same time inexpensive. This advantage makes them popular.

If we talk about the technical features of the panels, they consist of oriented strand boards, between which there is a layer of expanded polystyrene. The production technology used in the manufacture of panels allows us to provide them with such advantages as:

Reasonable cost price, and hence the final cost in the end.

Energy efficiency, saving on heating the building.
No tendency to deform due to home use or normal wear and tear associated with the passage of time.
Ease of operation, which allows you to speed up construction time without losing the quality of the final result.
The optimality for use in the construction of private houses on an individual project.
If you are striving for such housing, which will take into account your needs and wishes as much as possible, individual projects of houses made of SIP-panels will be a reasonable solution.
Individual project: implementation of the customer's wishes
Designing a house is a responsible process. It should take into account such aspects as:
the height of the building;

number of rooms;
their sizes;
a layout of accommodation;
wishes concerning the technical part (ventilation, heating and other communications);
wishes for the design of the landscape.
This versatility and complexity of the design process are due to the fact that many customers choose homes for ready-made projects. In principle, this is also a quite good choice. Finished projects allow you to order this option at home, which has been repeatedly built and was appreciated by the owners. But, nevertheless, we offer your attention to get acquainted with the advantages that individual design of a house has. They are:
Ability to combine your favorite elements of several projects. It often happens that in one project the customer likes the facade, in the other - the terrace, in the third - the layout. An individual design makes it possible to bring all these elements into one.

Realization of those wishes about your own home that you have formed. When a customer participates in work with designers and architects of a contracting company, there is a greater likelihood that he will be satisfied with the result of their efforts.
An opportunity to build a beautiful house on a non-standard relief or a plot of irregular shape. If it is impossible to implement ready-made projects on your plot, a custom design can help. These are the main advantages of building a house on an individual project.
Projects of houses from SIP-panels from the company "IVGRANBUD"
The company "IVGRANBUD" has extensive experience in working with SIP-panels. We successfully combine them with traditional building technologies. And individual design does not frighten us. Do you dream of a house built according to your wishes? Contact us!