Advantages of houses made of sip panels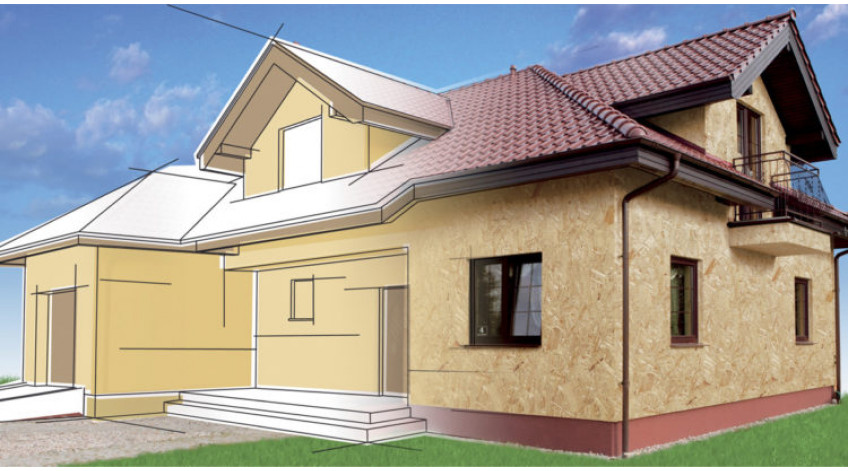 A SIP panel is usually called a structural-insulating board. It is also known as a structured insulating board. Sip panels are made of building material from many layers with high resistance to temperature changes and excellent performance characteristics. Due to their production features, the sip panels do not undergo freezing, very poorly absorb moisture, are not amenable to other negative factors. Today, more and more owners choose to build a house made of sip panels.
A little about the manufacturing process
The layers of panels are interconnected under enormous pressure. We are talking about three layers, namely:
internal and external, which are represented by oriented-shaving sheets;
the inner layer - polystyrene foam (it is used as a heater, as well as an important structural part, which contributes to the fact that the inner and outer sides are constantly parallel to each other).
Such panels are resistant to changes in temperature in the range from minus 50 to plus 50 degrees. The transverse load of two tons is not terrible for them, just like the vertical load of ten, if the building material has a width of at least 1.25 meters.
Styrofoam, which is an unchanged element of the sip panel, is an excellent soundproof material. Therefore, a house made of sip panels protects you from importunate sounds from the street.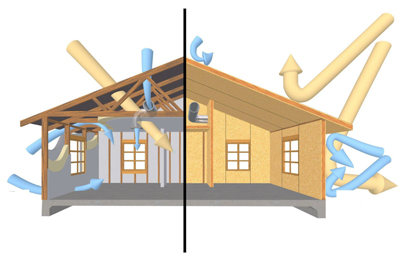 Features of expanded polystyrene
In addition to good sound insulation, polystyrene foam has excellent thermal insulation properties. The structure of the plate of expanded polystyrene consists of a huge number of cells, with a diameter of 2 to 8 millimeters. They are filled with air. Thanks to this, a good heat-saving effect is achieved.
According to the research, a layer of polystyrene foam of twelve centimeters has the same heat-saving characteristics as a half-meter wall made of wood.
Styrofoam has low dynamic rigidity. Therefore, it creates an excellent protection against impact noise.
This material is safe for human health. It does not become a source of emission of harmful substances, it is not exposed to mold or fungi, it does not rot, there are no cracks. The material has no limitations on shelf life. The fire resistance is very high, as well as the ability to self-extinguish.
Expanded polystyrene practically does not change its characteristics in an aggressive biological or chemical environment.
But this material can react in a peculiar way to ultraviolet radiation. It can make it fragile and prone to erosion from rain. That's why the sip-slabs should be stored so that they do not get direct sunlight. Also it is necessary to watch, that expanded polystyrene does not contact with mineral oil or solvents, hydrocarbons. These substances can damage its cellular structure. Therefore, in the manufacture of sip panels in the plant strictly adhere to certain rules.
Features of plates
Without an oriented particle board, the manufacture of the SIP structure does not take place. Such a plate is a composite substance. Its creation became possible due to novelties in woodworking. Sip-plates are of high quality, they pass the requirements of European standards. These are slabs that came out from under the press, from wood shavings with a thin sliver in half a millimeter or 0.7 millimeters. She is laid in several rows. In the inner row of the chips are placed at an angle of ninety degrees to the central axis of the plate, and in the extreme - along. The maximum length of the chip is 14 centimeters.

The plate is pressed under pressure and at high temperature. A waterproof resin is also used in the process. To ensure that the board is resistant to unfavorable weather conditions, it is impregnated with glue and a hydrophobic emulsion. Plates are environmentally friendly and safe material. They have excellent performance properties. Large-bore chips have a microstructure that gives the stove the desired rigidity and protects against the appearance of cracks. For sawing of sip panels it is permissible to use tools for ordinary wood. Drills for hard trees are suitable for making holes.

Manufacture of building materials offers plates of three types:

for operation in conditions with a low level of moisture (for furniture, packaging material, plating);

for operation in dry buildings, the construction of load-bearing elements;
for load-bearing elements in places with high humidity (suitable for the most unfavorable conditions).
For the production of sip panels, predominantly the highest quality and reliable boards belonging to the third category are used. The walls of such building material will be smooth, without irregularities. Sip panels will not accumulate moisture and rot. Due to the persistent transfer of unfavorable conditions, they are used in the construction of building formwork.
"Pros"
Sip panels have a large list of advantages. Among them I would like to note:

excellent operational capabilities;

long service life;
good sound and heat insulation characteristics;
possibility of installation on any ground;
speed of construction;
ecological compatibility;
security.
So, what house to build - usual or from sip panels and save a lot of time for construction, choose you. We have told in brief about the features of the sip panels. Hopefully our article was useful to you.